Malta is a tiny island-country in central Mediterranean between Sicily and the North African coast. The rich history and Natural beauty of this archipelago attracts almost 2 million visitors a year.It has a laid-back tropical vibe with amazing diving sites. Surprisingly, Malta has the highest density of historic sights on the planet! Here is the complete Malta Travel guide for you.
We visited Malta in February 2019 with our one year old son. Malta was exactly what we were looking for to escape Finnish winter – a safe, warm, child-friendly destination with friendly people and medieval cities. Malta is one of the popular destination in winter due to its warm weather.
Malta Travel Guide - When to visit Malta
Here is the month-wise weather information taken from Holiday-weather. It shows that you can get warm weather  around the year. We traveled in February to escape from Finnish winter. If you are a beach lover, surely February is not the ideal month for you. So plan accordingly. Go through this Malta travel guide to know more about Malta.
Fun facts about Malta:
Mdina, the walled & former capital of the country, allows only residents to drive on its roads.

Valletta, Europe's first planned city has a total area of 0.8 square km. It took nearly 15 years to build the city.

Malta does not have any river or forest.
There are more Maltese people in Melbourne, Australia than Malta.
When tourists arrive in the country during peak season, its population triples
Malta Travel Guide - Top Destinations in Malta
Malta offers you glorious variety in its small archipelago. In our 7 days stay we explored almost every corner of the island with a rented car. There were plenty of interesting sites across the island. Here in Malta travel guide I am listing my preferred 10 must see destinations in Malta.    
1. Valletta - The Capital of Malta
Valletta,
the Capital city of Malta
, is
a UNESCO World Heritage site. In 1830 former British PM Benjamin Disraeli 
described it as "a city of palaces built by gentlemen for gentlemen". 
Though small it is packed with several tourist attractions. These are my take.
St. John's Co-Cathedral

 
The most impressive churches of 16th century in Malta. One of the greatest treasures of this cathedral is Caravaggio's famous painting- "The Beheading of Saint John."
Grand Master's Palace



This was originally the residence of the Grand Masters of the Knights of St John. The palace is surrounded by beautiful courtyards with fountains and statues.
Upper and Lower Barrakka Gardens
Upper Barrakka Gardens, located in the centre of Valletta is one of the capital's major attractions. This is a perfect place to take rest in warm sunny day. Every day at 12.00 there is cannon shooting ceremony.
The Lower Barrakka Gardens, a bit further along the seashore, is close to the Fort Saint Elmo.
Republic Street and Merchant Street
These are two main shopping street in Valletta. Several cafes and restaurants to offer delicious Maltese & International dishes. If you want to buy souvenir this is the right place for you.
National Museum of Archaeology
The National Museum of Archaeology is in Auberge de Provence. It is small but well organized.  "The Sleeping Lady" and "The Venus of Malta" are the most notable pieces of art in this museum.
2. Three Cities - Fortified cities in Malta
The three cities – Bormla (Cospicua), Senglea (Isla) and Birgu (Vittorioso) can be seen across the Grand Harbour from Valletta. You can take marvelous panoramic lift from upper Barrakka Gardens to the Lascaris Ditch and then ferries or water taxis to the Three cities. The cities are well connected by public transport from Valletta and it takes 15 minutes to reach there. The best option to explore the area is walking down the street. It is recommended to take a guided tour for better understanding of the area.
3. Mdina - The Silent City of Malta
Mdina, popularly known  as 'The Silent City' is a fortified city in Malta. It looks mysterious with its golden lime stone city
–
wall,
cobbled streets
and historical building.
T
he narrow alleys of Mdina will literally take you back to the medieval age
.
Must visit places in Mdina are
St. Paul's Cathedral, Chapel of St. Roque, The National Museum of Natural History, Archbishop's Palace
. Guided walking tour is highly recommended.
4. Rabat - The Old Capital
Rabat, the neighbour
–
village
of
Mdina is known for its quiet, rural character and natural beauty. St. Paul's and St. Agatha's Catacombs
are must visit in Rabat.
Both contain a typical complex of interconnected, underground Roman cemeteries that were in use up to the 4th century AD. Yet another place with full of Maltese history. It is recommended that you walk across the bridge once you come out from Mdina and immediately you are in Rabat. You can pay a visit to Howard Garden, Roman Villa, Wignacourt meuseum, Collegiate Church of St. Paul if you have enough time. 
5. Marsaxlokk - The Fishing Village in Malta
Marsaxlokk is a small, traditional
,
tranquil
fishing village
on
the South
coast of
Malta
.
The place is famous for its fish market, colorful boats known as 
lu
zzus and seaside restaurants
.
Take a boat trip in
Marsaxlokk bay on 
a luzzu boat.
If you are a fish lover this place is for you. Enjoy f
resh
fried or grilled fish in 
seaside restaurants. 
Every Sunday, the open fish market in Marsaxlokk is very popular among tourists. Mainly local people buy fresh morning catch from the market. S
easonal fish like mackerel, awrat, octopus, squids, prawns, shrimps, and even sea snakes are common in the market.
There are several cheap but quality souvenir shops around the area. Several organized day trip are conducted by tour operators from Valletta to Marsaxlokk.
6. Popeye village - An Old Film City
Popeye village, located on a cliff at Anchor Bay, is a theme park with open air museum, Santa's toy town, few restaurants, a sea side resort and a water park. With deep blue water, cliff, colourful wooden houses it looks like a dream village.
This is a network of 7 caves in Mediterranean sea. 
You can book a
boat trip
which will
take you into the caves to
enjoy
the glorious colors of the varying shades of blue
.
Please check the time for boat trip before hand. A comprehensive write-up on Blue Grotto is available at Malta Uncovered.
8. Dingli Cliff - The Highest point in Malta
The Dingli Cliffs are the highest part of Malta situated in west coast. The place will delight you with its stunning panoramic coastal views. It's a great point to observe sunset. The whole area looks magical in the light of setting sun.
9. Comino and the Blue lagoon
The Blue Lagoon is considered as one of the most attractive places in Malta. You can take ferry or book a boat trip from Valletta or from Gozo to Comino. It is an ideal place to spend a whole day, enjoying sun bath on sandy beach, diving, swimming or snorkeling in the crystal-clear water of the blue lagoon.
Malta's sister island Gozo is much greener, quieter and peaceful. It is believed to be Calypso's isle, described in  Homer's Odyssee. The island is known for its wind-swept stone formations.
Take the ferry from the port of Cirkewwa in Malta to Mgarr on Gozo. The ferry takes about 20 minutes.
Few must visit places in Gozo:
Cittadella of Rabat
The Citadel in Rabat (Victoria) – a beautiful fortified city, situated on a hill near the centre of the island. This city was fortified during the Bronze Age, around 1500 BC. The views of the island from here are amazing.
Dwejra

 
Dwejra is a natural site in Gozo with cliffs, caves, diving sites, stunning natural monuments which turn it to a unique place. The location once known for the Azure Window, which was featured in Game of Thrones, sadly collapsed in 2017 because of bad storm.
Marsalforn Saltpans
The salt pans of Xwejni Bay near Marsalforn coast are produced sea salt from ancient age. The families who manage the pans sell homemade sea salt near salt pan. Enjoy blue sea coast and the beautiful view of salt pan.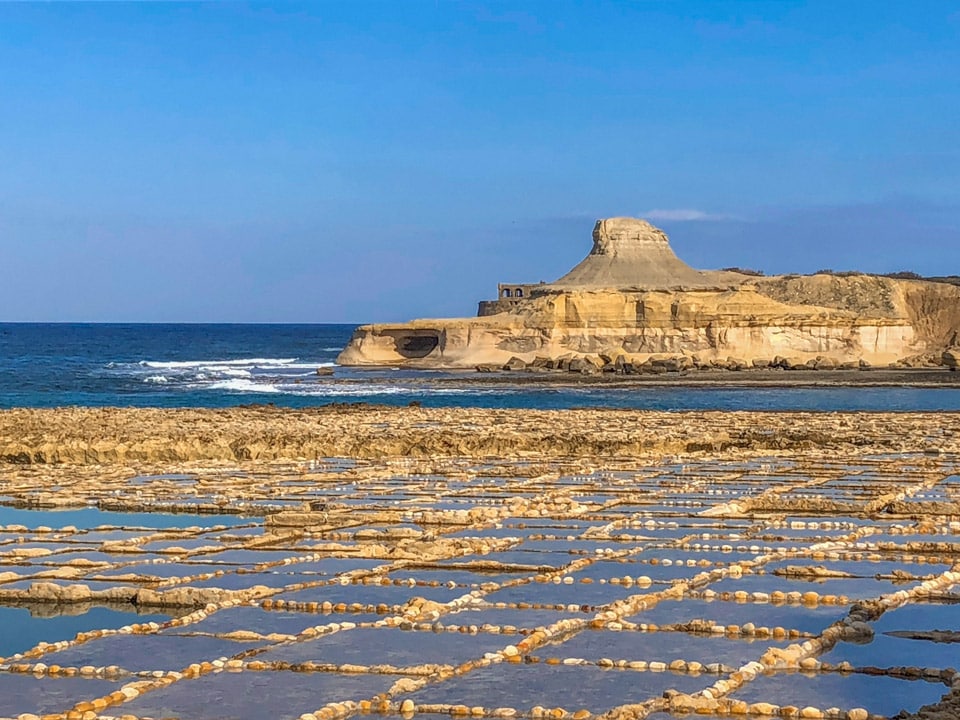 Ta

' Pinu 

Basilica
This basilica is one of the best Church in Malta, located in the village of Gharb in the North Western Part of the island. Ta' Pinu Basilica is famous for its annexed museum. The surrounding is perfect for driving.
Ggantija Temple
Ggantija Temple complex is one of the most impressive archaeological sites on Maltese Islands. This is a UNESCO-listed prehistoric site  from the early period of human life 3600 BC to 3200 BC.
Rambla Bay
Ramla Bay is the largest beach on the Island of Gozo. It has a wide shore covered in fine reddish sand which is not common in Gozo.
Surprising facts about Malta:
It is believed that the cave that Homer wrote about in The Odyssey is Calypso Cave.

According to UNESCO, Valletta, the capital is one of the most concentrated historical areas in the world.

 

Hagar Qim, the best preserved lime stone temple in Malta dated back 5000 years.

The underground necropolis Hal Saflieni Hypogeum was excavated around 2,500 B.C. 
 Malta is one the most popular destinations for big-budget movie productions.
Around 17,000 years ago, the Maltese islands were the mountain tops of a single landmass which connected  Malta to Sicily to mainland Italy
Malta has been inhabited since the early Neolithic period of 5000 BC.
Malta was known as the Nurse of the Mediterranean because during World War I, as large number of wounded soldiers were accommodated on the island.
 There are more than 365 churches  in such a small country. Effectively you can have a new church everyday to pray across the year.
The entire country is mainly made up of limestone
Malta Travel Guide - Where to stay in Malta
Considering the size of the island, practically you can stay anywhere and travel everywhere in Malta. We stayed in St. Paul's Bay. If you rent a car St. Paul's Bay can be better option over many places.  
Valletta – is Malta's capital city– a perfect place to stay. Though it is a small old city, it is lively and vibrant. As a center of historical and cultural point it is quite expensive though. Have your wallet ready.
Sliema – is one of the most popular places for staying among the tourist as most of the attractions are easily accessible from here. There is wide range of accommodation options and cheaper than Valletta.
St Paul's Bay – is around 13-14 km away from the capital. If you are in budget tour you can check this area as it is easy to find cheaper but quality accommodation here. The open sea gives some extra mileage to your vacation.
Mellieha – One of the few places in Malta with sandy beaches. Though it is in the far north but easy to access Gozo, Comino and the Blue Lagoon from here.
St Julian's Bay –  is situated to the north of Sliema. The area is famous for its nightlife. There is plenty of the pubs, fast-food chains, clubs and casinos.
Gozo – is more peaceful and scenic than the main island. If you want to spend your vacation away from hustle & bustle of the city and enjoy nature then Gozo is the better option. Else, you can stay one or two nights in Gozo while visiting Malta.
If you are looking for a deal in Malta check below. Don't worry it doesn't cost you extra.
Malta Travel Guide - What to Eat in Malta
Maltese cuisine shows strong Italian and English influence. Pizza and Pasta are very common in Malta. Traditional Maltese dishes include Lampuki Pie (fish pie), Rabbit Stew, Bragioli (beefolives) and pastizzi (savoury ricotta filled pastries).
Don't forget to try traditional Maltese Platter. We had an opportunity to taste it in Mdina (Don Mesquita Restaurant ) with local goat cheese gbejniet, bread, sun-dry tomatoes, sausages, capers, and bigilla dip.
Marsaxlokk is known for Fish. Having fresh-catch fried/baked fish with your favorite drinks (homemade wines are available) by the sea is an experience to cherish. 
Seafood is very common in Malta. Seafood paella at Mallieha beach is highly recommended.
You may find Cisk- the local beer and Kinnie-a soft drink made of bitter oranges everywhere.
Malta Travel Guide - How to explore Malta
The biggest advantage of being a tourist in small country like Malta is you can explore the entire country in no time. Malta offers a cheaper, reliable, modern public transport system consist of buses and taxi services. You always have the option to hire a car if you look for more convenience.
Getting around in Malta by bus may not be the fastest way but surely it will get you anywhere in Malta during its operating hours. Malta Public Transport website is handy to plan your trip. A two-hour single journey costs 2€ in summer,1.5€ in winter and 3€ during night. Summer rates apply between mid-June to mid-October. Bus route in pdf format is available here.
This is the best option when you want to uncover the hidden places in Malta. I would not experience one of the best sunsets in Dingli cliff if I relied on public transport. You can compare and book a car before your arrival in the island to make it cost effective.
Things to remember:
Left side driving

International Driving Permits are legal in Malta

The roads in Valletta, Sliema are really busy during peak hours.

English road signs are saviour for tourists.
Pin Malta Travel Guide if you like it!!
Though Malta is a tiny Island, it is difficult to squeeze everything into a single Malta Travel Guide. I will write articles with more details in future. Signing off till then.