The plane as if touching the sea, landed on one of the world's scariest airports, located between Atlantic Ocean and high mountains. We reached Madeira- the island of eternal spring. Thus, our journey began…Madeira needs no introduction as it is already popular as the birthplace of international soccer star Cristiano Ronaldo. But what make it one of the world's top islands are its spring like weather all year round, cobalt-blue Atlantic water, surrounding chartreuse forests, stunning natural scenery, black sand beaches, beautiful valleys and mountains. Here is my compilation on complete Madeira Travel Guide for you. 
"The sea on one side, the mountains on the other, and between these two majestic splendours, the city smiles like a child sleeping, safe and warm, between its parents." – Júlio Dinis
Madeira, a Portuguese archipelago of volcanic origin suits to every traveler. Just spend your days appreciating the richness of the Madeira landscape, or wandering among trees, cliffs and waterfalls or floating with dolphins on deep blue sea, or counting the wave and listening the song of the ocean.It is also a haven for adventure-seekers. Trek along the Levadas, Dive into the sea, enjoy hang-gliding or paragliding.
When to Visit Madeira, Portugal
It depends on your preference as it is a all season destination with wet winter.  For hikers April and May are the best months to visit. Madeira has wonderful garden, if you are a flower-lover visit in spring. You will experience blooming Madeira.  If you want to avoid crowded Madeira then late February or March is better option.
Top 15 Attractions in Madeira - Madeira Travel Guide

We spent one week in Madeira and felt in love at first sight. It was such a place where you would like to visit again and again. In this  Madeira Travel Guide I share my personal experience and views about top attractions in Madeira, when to visit Madeira, how to travel around the island, where to stay, what to eat and other important information on Madeira.
Funchal, the capital city of Madeira is a must visit if you are in the island. This small town has a lot to offer to her visitors. From historical buildings, museum, beautiful gardens to whale watching,  Funchal has variety of activities to entertain all.
With its narrow alleys, cobblestone streets, boutique shops and plenty of cafés and restaurants,  Funchal old town will bring you back to 15th century. Santa Maria Street is my one of the favorite places in old town. Painted doors of the area will surely amaze you.
Mercado dos Lavradores (Farmers' Market)
The Farmers' Market is one of the remarkable places which we visited in Funchal. Madeira travel guide remains incomplete without mentioning of this place. Spend a morning at this colorful and happening farmers market. It operates every day except Sunday and public holidays.
Monte Palace Tropical Garden
It is one of the top attractions in Funchal. This 70,000 square meters park has an impressive collection of exotic plants and flowers.  A large section of the garden, inspired by Japanese and Chinese gardening style, is decorated with pagodas and Buddhist statues and decorations.  The Monte Palace Museum consists of three galleries, two of them on sculptures and one exposes a collection of minerals.  The garden is open everyday except 25th of December from 9.30 to 18.00.
This is one of the most beautiful gardens in the region, with amazing views, overlooking the city. This park was inaugurated in 1960 at Quinta do Bom Sucesso – 3 km from the centre of Funchal. Apart from being a beautiful place of leisure, it also serves as a centre of Science and Culture. With about 35,000 square meter the Botanical Garden boasts more than 2000 exotic plants.  The park is connected to Monte Parish through cable car.
Opening Hours: From October 1 to April 29 – 9:00 to 18:00  (last entry at 17:30 ), From April 30 to September 30 – 9:00 to 19:00 h (last entry at 18:30 )
There are several wine lodges in Funchal, but Blandy's wine Lodge can be most worth visit which give you the opportunity to explore 200 years of Madeira wine. Multilingual Guided tour is available from Monday to Saturday all around the year. You can visit various areas of the Lodge during the tour and taste famous wine in vintage room. 
Porto Moniz is 50 Km away  from Funchal. The northwest coastal town is famous for its three natural swimming pools, formed by volcanic rock structures which allow the cool, fresh sea water to enter every tide and offer a refreshing experience of swimming. You can admire small fishes that swim freely at the bottom of the pools.
This place is amazing for a day out. There are several seaside restaurants which offer seafood and traditional Portuguese dishes. Porto Moniz also has a small aquarium near shore and hikers can trek inland on the verdant Levada da Ribiera da Janela.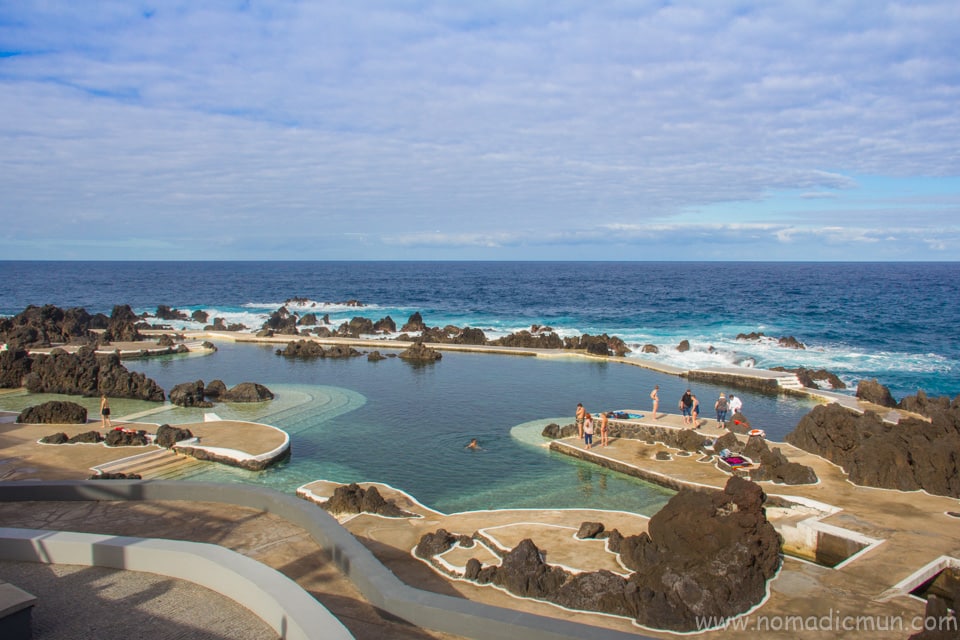 Few buses go to Porto Moniz from Funchal. It takes almost 1 hour by car and  3- 3.5 hours by bus. If you desire to visit the place by bus, it will be better if you stay one night there or nearby places.
For bus details https://www.rome2rio.com/map/Funchal/Porto-Moniz
3. Rabaçal and The 25 Fontes Levada walk
Rabaçal is an unique and magical place in the southwest of the island, full of waterfalls.  "25 Fontes" is the most popular of them. The trail to the 25 fontes is one of the most visited Levada walk in Madeira.
A Levada is a channel that is used as an aqueduct to transport water. These used to carry water all the way from the mountains down to the towns below  to be used for all agriculture and farming. Built for agricultural purposes, the levada leads the walker into the deep valleys , offering spectacular views of the mountainous terrain of the interior of the island and of human ingenuity. 
You will experience stunning landscape and breathtaking sceneries during Rabaçal 25 Fontes levada walk. This walk is declared as a World Heritage site by UNESCO since 1999. The whole walk covers 13km and takes almost 4 hr. You need good hiking shoes and waterproof jacket for this hike.There is an option to take paid ride, provided by local council from the starting point to Rabaçal forestry guard's house. 
Santana is a beautiful village on the north coast of Madeira Island. The name 'Santana' derives from a small sixteenth century chapel, the Chapel of Santa Ana. Traditional Maltese thatched houses can be seen in Santana and are frequently visited by tourists. The Madeira Theme Park in Santana has a nice exhibition about the history, traditions and cultures of Madeira. It is good for a half day stop. From Santana you can visit 'Pico das Pedras' and Madeira's highest point 'Pico Ruivo'.
Road distance to Santana from Funchal is 40 km. It takes almost 40 min by car and 1hr 30 min by public transport to reach the place.There is a direct bus from Funchal to Santana which runs twice daily.
Levada Caldeirao Verde, Madeira is also known as the Levada of the Green Cauldron. This is because at the end of this marvellous walk, you'll find a waterfall, looked like a cauldron. This walk starts at Quiemadas, from where the levada will lead you to the waterfall through forest and mountains.
Quiemadas is almost 1-hour drive (40 km) from Funchal. It is very close (only 4 km) to Santana village.If you are going by public transport, take bus to Santana from Funchal. From Santana you will get shared taxi to Quiemadas as many people go to same direction.
These amazing volcanic caves are located on the northern part of the island in São Vicente area. It's almost half an hour drive from Funchal.
These caves were formed by a volcanic eruption, 890,000 years ago. The outer part of the erupted lava which exposed to lower temperatures, solidified quickly.  But inside the lava continued to flow, and formed a series of lava tubes, which constitute the caves of São Vicente.
There are a guided cave tours available. You can literally walk in those lava tubes. The cave tour ends at the volcanic centre where you can watch documentaries on the formation of caves. For more details click here.
7. Cabo Girao (Camara De Lobos):
Cabo Girao, the highest cliff in Europe (589mts) is located about 15 kilometers west of Funchal. It is also the second highest sea cliff in the world. This is a must stop when you are in Madeira.
A glass floor skywalk extending out over the top of the cliff, makes it special.  It offers a spectacular panoramic view over the ocean. There's no entry fee for skywalk.
Cabo Girao is 16 min drive from Funchal. You can find buses from Funchal or Câmara de Lobos to Cabo Girao. It takes almost 40 min by bus. 
Pico do Arieiro is such a place which will make you forget the whole world. It is the third highest peak of the island.  Fortunately, you can reach the place by car. It is also the starting point of famous hike between two peaks – Pico do Arieiro and Pico Ruivo which is highly recommended. Visit it to have an unforgettable walk in the clouds, forgetting the whole world around you. If weather permits, sunrise can be an unforgettable experience from here. if weather is supportive.
Ponta do Pargo is a hidden gem in Madeira. This was one of the most beautiful spots I've seen during my travelling in Madeira. It's the most western point in Madeira with a small lovely lighthouse and beautiful cliff views. We stayed one night in a small village there. You can spend whole day just sitting and watching the waves crashing along the shore! This is a perfect place for enjoying sunset. But you need car to reach the place.
This place is another hidden gem in Madeira! take Achadas da cruz cable car ride off the cliff, you'll get to a unique place- Fajã da Quebrada Nova. It somewhat looks like a tiny village but in real, nobody lives there. It's a temporary dwelling place for fishermen and farmers come down occasionally to take care of their land. You can only get there by cable car. It's so beautiful and remote that it looks like a place from a different world. You can reach Achadas da cruz by car only.
11. Ponta de São Lourenço
Situated on eastern tip of the island Ponta de São Lourenço is one of the last, nearly untouched places in Madeira. This is the place where a fantastic combination of rocks, turquoise sea and nature created a heavenly atmosphere. One of the best places for hike. There are excellent views of both the northern and southern sides of the island. Along the hiking route you can often see several bird species, the Madeiran lizard, Lacerta dugesii, endemic land molluscs and interesting rock formations, resulting of the volcanic origin of the island. The place is good for sunrise.
12. Curral das freiras (Nun Valley)
Curral das Freiras village or the Valley of the Nuns is 19 km away from Funchal, bang in the middle of Madeira and surrounded by high mountains. The name of the village was given as nuns from Funchal escaped the city when it was under attack by French pirates and found shelter here. 
There's not much things to do, but the views are spectacular. And although it's a tourist attraction, it's very quiet and peaceful. You can find a lot of chestnut trees in this area. The local liquor, Ginja, is prepared from those chestnuts or from cherries. Tourists can taste it in the many small cafés in the village. Of course, Ginja can be bought as a nice and tasteful souvenir.
Along the same path to curral das freiras, there is a place called Eira do Serrado with the only one hotel building. A small footpath leads from there to the "Eagle's nest" where you get a stunning view of Nun's Valley. That short walk is highly recommended.
Porto Santo is a golden isle in the archipelago of Madeira, surrounded by turquoise sea. It is a place   where peace and tranquil reign supreme, a place for a truly relaxing holiday.
It's known for its warm waters, beautiful dive sites and the 9 km long fine golden sandy Beach which is ideal for sunbathing and swimming. The palm trees and bougainvillea lined streets are ideal for a leisure stroll. There are several restaurants to satisfy your taste buds. The most popular way to reach Porto Santo from Funchal is by ferry.
Garajau is a small village in southern part of the island and Ponta do Garajau Peninsula is located in Garajau beach. This place is famous for  Christ, the King statue – is a statue of Christ with open arms, facing the ocean (the Cristo Rei Viewpoint). It is a great work of French sculptor Georges Serraz and Pierre Lenoir. This famous statue was completed in 1927- four years before ''Christ the Redeemer statue'' in Brazil.
The place is famous among divers for its crystal waters that allow observations to more than 20 meters deep.
Machico was the first capital of Madeira. This historic seaside city is situated on the eastern side of the island. Architectural traces of old village that was the first settlement on Madeira  still sprinkled all over Machico. Machico has a small beautiful golden sand beach which is not common in the island. The sand is impeccably clean and has been shipped from Morocco.
You can visit the mother-church, the Chapel of Nossa Senhora dos Milagres, Sao Roque fountain and the forts of Nossa Senhora do Amparo and Sao Joao Baptista
What to eat in Madeira - Madeira Travel Guide
Madeira is a heaven for foodies. Foods in Madeira are amazing, diverse and delicious, which will definitely give your trip another dimension. From fish to meat, tropical fruits, sweets, bread, nutritious vegetables- the wide choice allows you to try something new everyday. 
Tropical Fruits
You must taste tropical fruits that grow on the island, such as passion fruits, pomegranates, tangerine, tabaibos, mangoes, grapes and avocados.
Tabaibo is the fruit of tabaibeira, a plant of the cactus family.  It is popular for its juicy freshness.
Passion fruit is one of the most valued fruits in Madeira. There are different types of passion fruits in Madeira. You can buy fresh from farmer's market. Samples for taste are free.
Local Fishes and Sea Foods​
 When you are in Madeira you should try different kind of fresh fishes. One of the best-known fishes is scabbard fish, which is not good looking as a fish, but it is pretty good on a plate. Try Black Scabbard fish fillet with Banana.
Filete de espada, a swordfish filet prepared the Madeiran way, with passion fruit and banana sauce is another must try dish.
The "Lapas" (limpets) with fresh butter, garlic and lemon is another famous dish from Madeira.
If you are a meat lover,  try traditional "espetada" which is beef on a skewer, seasoned with salt, garlic and bay leaves. The meat is roasted in a brazier and served directly from the skewer.
The famous street food is bolo do caco – bread baked on a piece of tile. It is made with yam and served with garlic butter. It is cheap and tasty.
Dessert
Taste Bolo de mel de cana, the local honey cake, made with honey, almonds, walnuts, cinnamon, and other spices. It is invented in 15th century and considered to be Madeira's oldest dessert. During old days it was originally made with molasses and could be stored for up to 5 years. The texture is spongy and sticky. we tasted it but frankly the taste was little strange for me. I enjoyed passionfruit cheesecake more than it.
You must try passionfruit pudding or passionfruit cheesecake if like sweet.
Drinks
You must taste Madeira wine, which is famous worldwide. Try the most traditional drink of the island- Poncha, made from brandy/ rum, cane sugar, honey and juice. I really liked the taste of Poncha; it's as strong as delicious.
The local liquor, Ginja, which is prepared from chestnuts and cherries is also famous among tourists.
Where to Stay in Madeira - Madeira Travel Guide
Funchal
If you are not renting a car, Funchal is the best place to stay. It has the best and easiest transport links to the rest of the Island. Lido area is just outside the centre, but this is one of the most touristic parts of the city with beautiful hotels and resort.
Remember Funchal is very crowded in tourist seasons. Most of the lanes in old town is very narrow. Parking is scarce in the city.
Santa Cruz
The coastal village of Santa Cruz near airport. It has a beautiful historical centre with a few cafés, restaurants and market. It is only 17km from Funchal. So if you want to avoid crowd but want to stay near Funchal it can be a good option.
Machico
Machico is in the eastern part of the island. It is historical old city, just 7km from the airport. It has a golden sands beach.  If you are a beach lover, it can be your choice.
 São Vicente
São Vicente is one of the best places to stay on the north of the island. Surrounded by gorgeously green mountains, it also has a black sand beach, a quaint village centre and a strip of seafront restaurants.
Porto Moniz 
This small, northwest coastal town is most famous for its natural swimming pool. Not much for entertainment. Can stay only one night.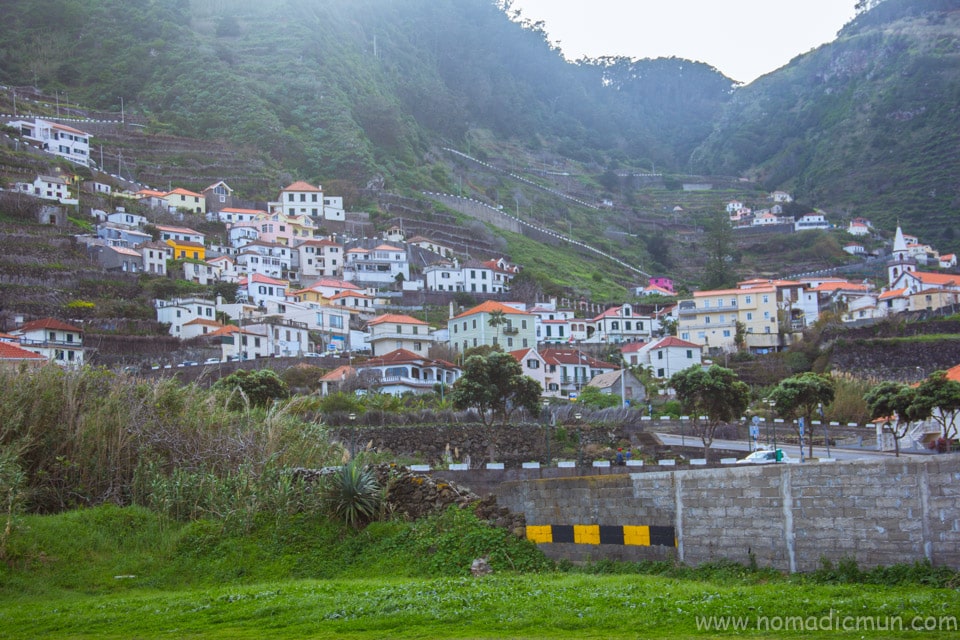 My recommendation: We stayed 3 nights in Funchal, 1 night each in  Ponta do Pargo, Sao Vicente and Santa Cruz. If you hire a car then I would recommend to stay in different part of the island. Otherwise Funchal can be considered as the base.
How to Explore Madeira - Madeira Travel Guide
Using public transport is the economical way of travelling. Madeira has wonderful public transport system. If you stay in Funchal, public transport is a good deal. The Aero-bus is a frequent express bus service between the airport and Funchal city.
In the centre of Funchal, wheelchair-friendly minibuses (Linha Eco) are a handy way for visitors to discover different parts of Funchal.
Hop-on hop-off  Bus service is a good option to explore the gorgeous capital of Madeira, Funchal. Tickets are valid for 24 hours and comes with a free booklet with many discounts at bodegas, shops, attractions! 
Buses from four Transport companies –Horários do Funchal, SAM, Rodoeste and EACL (Empresa de Autocarros do Caniço) — cover different parts of the island. 
There are regular inter-urban buses to Nun's Valley, Camacha, Caniço, Santa Cruz or Santana. With SAM and EACL bus services you can go east to Caniço, Santa Cruz, Madeira Airport, Machico, Santo da Serra and Porto da Cruz.
IRenting a car is the best option to explore whole island within short duration. Road trips around Madeira is really thrilling as the island is full of long tunnels, steep driveways and sharp curves above the cliffs. But believe me it is a drive with full of adrenaline..
Want to explore the island but don't want to drive? Don't worry taxi hire is so easy.  The airport taxi rank is located outside the arrival lounge. The trip between the airport and Funchal is around 30 to 40 Euros depending on the time of day.
 All taxi drivers carry a government-approved price list for journeys outside Funchal. Madeira Island Taxis, Funchal Taxis, AITRAM are popular taxi services in Madeira.
Visiting the city of Funchal and surroundings on a Tuktuk is full of fun and entertaining experience.
Pin Madeira Travel Guide if you like it!