Madeira, the island of eternal spring, offers plenty of activities to the visitors. You can spend your days just wandering among trees, cliffs and waterfalls or floating with dolphins on deep blue sea. It is a paradise for adventure-seekers – trek along Levadas, dive into the sea, drive through cliffs, enjoy hang-gliding or paragliding, book boat trip or go for big game fishing- the list is never ending. We spent one week in Madeira and loved the island. Frankly speaking I would not expect that such a small island could offer such a vast opportunity to make my trip so memorable!! Here I am listing 15 must do things in Madeira. Let's explore the best 15 things to do in Madeira.
1. Explore Funchal Old Town
Funchal Old town, locally known as Zona Velha is one of the main tourist hotspots, famous for its historical, architectural, gastronomical and artistic aspects. Explore the artistic project "painted doors" on the streets of Santa Maria. You can take a stroll on the narrow alley of old town which is full of life and spirit with variety of restaurant, bars, café and souvenir shops. Other main attractions of the area include Farmer´s Market, Madeira Story Centre, Forte São Tiago, the Cable Car Station to Monte and the Flea Market.
2. Take a Cable Car Trip: A journey between Heaven and Earth
Madeira has breathtaking landscapes though only Cable Car line offers the most spectacular aerial views. Imagine flying over different blue shades of the Sea , houses, the Cathedral's tower, colorful bougainvillea and many more!! Cable car is an integral part of transport in Madeira. Funchal has two cable car routes :
Madeira Cable car/ Funchal - Monte Cable Car
This cable car operates between the old part of Funchal and Monte (560 meters of altitude).  It is equipped with 39 cabins and each has eight seats.The main attraction of this trip is the fabulous view over Funchal. Each journey takes about 20 minutes. You can buy a combine ticket for the cable car and Monte garden from Funchal cable car ticket booth.
Botanical Garden Cable Car
The Botanical Garden Cable Car, equipped with 12 cabins, connects Botanical Garden to Monte Parish. Enjoy a stunningly beautiful landscape, among hills, valleys, streams and the lush Laurissilva Forest, classified by UNESCO as a World Natural Heritage Site. A single trip takes about 9 minutes. This route makes possible to visit the Botanical Garden and Monte on the same day.
Other popular cable car routes which offers amazing experience are –
Achadas da Cruz Cable Car
The Achadas da Cruz cable car is one of the main attractions on the north coast of Madeira. This cable car ride off the cliff, takes visitors to one of the most unique places in Madeira- Fajã da Quebrada Nova. Cable car is the only means of transport to reach there.  It's so beautiful and remote that it looks like a place from a different world. The cable car journey itself is worthy to visit.
Operating hours: Everyday: 8am – noon  and then 1pm – 6pm
The Garajau cable car runs from Ponta do Garajau- 15-minute drive from Funchal to Garaju Beach. This is famous for The Christ the King statue. The cable car has about 150 meters of vertical drop to the Garajau Beach. There are a free car parking, restaurants and a diving centre nearby.
Operating hours: Summer: Monday – Sunday: 10 am – 8pm
Fajã dos Padres Cable Car
Fajã dos Padres, about 10km from Funchal, is a hidden gem on Madeira Island. There are only two ways to get there: boat or cable car. Through the cable car panoramic windows one can enjoy the descent of 300 meters. The journey takes 2 and a half minutes. It is located in Quinta Grande, about 10 minutes' drive from Funchal.
Operating hours: Daily :10am-6pm
A visit to Madeira without a Levada walk remains incomplete. Levadas lead the walker into the deep valleys, forests, offering breathtaking sceneries of the mountainous terrain of the interior of the island and of human ingenuity.  A Levada walk will give you a chance to discover amazing waterfalls, mountains, hidden in the deep forests.
 A Levada is a channel that is used to carry water all the way from the mountains down to the towns below. The water used to be used for all agriculture, farming and household purpose. These are usually built into the side of mountains, where the water can run easily. Therefore, these levadas are very popular trails as they lead you right along all the mountains and guide you to stay on the trail.
Among 200 Levadas the most popular walks are –
Rabaçal 25 Fontes and Risco Waterfall levada walk:
This is one of the most visited Levada walks in Madeira. You will experience stunning views and breathtaking sceneries during the walk. It covers about 13km and takes almost 4 hr.
 25 Fontes Levada Walk is classified as a World Heritage site by UNESCO since 1999.
The walk starts and ends at Quiemadas, and covers about 13 km. Through forest and mountains this levada will lead you to a waterfall which looks like a cauldron.
Quiemadas is almost 1-hour drive (40 km) from Funchal and only 4 km from Santana village.
The Levada do Rei walk offers amazing views of Laurissilva Forest, and farmland Sao Jorge and Santana. The trail starts at the Quebradas water treatment plant and covers almost 5km.
Levada da Ribeira da Janela
 This is one of the best hiking trails on the northern side of the island. The trail follows the Da Janela river valley and provides stunning natural scenery. The route is about 13km and starts from the small village Lamaceiros.
The Cedros Levada Walk starts from Fanal and lead through the laurel forest, which is classified as a World Natural Heritage Site and is part of the Natura 2000. The trail covers 5.8 Km takes 3 hours to finish.
4. Swim in the Natural swimming pool of Porto Moniz
Porto Moniz, the northwest coastal town of Madeira is famous for its three natural swimming pools, formed by natural volcanic rock structures, naturally filled with crystal-clear sea water. With a surface area of 3800 m², the pools allow the cool, fresh sea water to enter every tide and offer a refreshing experience of swimming in them. Using goggle and mask, you can admire small fishes that swim freely at the bottom of the pools. There is also disabled access in the pool area. It has a children's swimming pool, a play area, a car park, changing rooms and bathrooms with lockers, a snacks bar, sun loungers and sunshades for hire.
Porto Moniz is 50 Km away (1hr drive) from Funchal. Few buses go to Porto Moniz from Funchal. It takes almost 3- 3.5 hours by bus. If you desire to visit the place by bus, it will be better if you stay one night there or nearby places.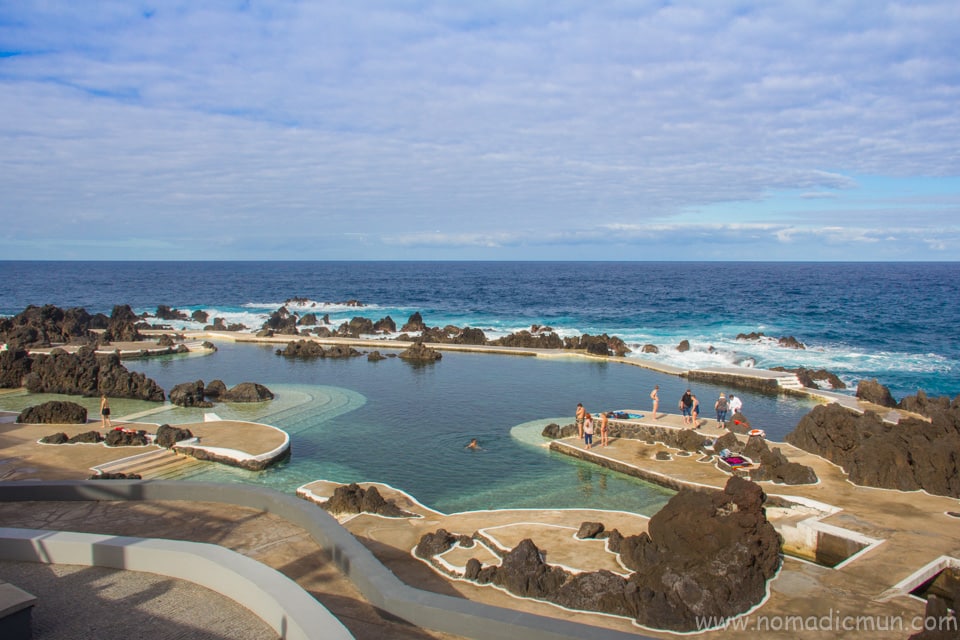 Glass bottom Skywalk on the cliffs of Cabo Girão should not be missed if you are in Madeira. It offers a spectacular panoramic view of Madeira coastline, Funchal and the town of Câmara de Lobos. This is the highest cliff sky walk in Europe and the second one in all the world. It may seem scary, but it's perfectly safe.  It is an excellent spot to practice paragliding and base jumping.
Cabo Girao sky walk is about 15 km west of Funchal and can be easily reached by bus from Funchal or Câmara de Lobos.
There's no entry fee for skywalk and large free car park area is available on the spot.
A Cable Car ride down to Fajas de Cabo Girão is available there. 
Caves tour is another must do things in Madeira. These caves were formed by a volcanic eruption 890,000 years ago. The outer part of the erupted lava which exposed to lower temperatures, solidified quickly but inside the lava continued to flow, and formed a series of lava tubes, which constitute the caves of São Vicente.
The cave centre arranges a multilingual guided tour inside the lava tube. You can walk in those lava tubes during that trip. The caves tour ends at the volcanism centre which offers educational and entertaining audio-visual displays that recreate the geological evolution of the caves, the eruption of a volcano and a recreation of the birth of the Madeira Islands.
These amazing volcanic caves are located on the northern part of Madeira in São Vicente area – almost half an hour drive from Funchal. The place is difficult to reach via public transportat but not impossible.  Bus 139 goes to São Vicente Caves from Funchal. It takes almost 3 hours. Other option is yellow bus cave tour. I recommend driving there or book a taxi if you are without car.
Visiting Hour: Every day between 10 am and 6 pm, except 25th December.
7. Explore Gardens of Madeira
Madeira is known as the 'floating flower garden', because of its beautiful gardens. Flower is blooming whole year in the gardens of the island because of its spring like weather throughout the year. In 2000, Madeira won the prestigious award "European Flowering City 2000".  There are more than 20 gardens in Madeira. most of them are open every day except Christmas Day. A list of most popular garden is below-
Monte Palace Tropical Garden:
Monte Garden, one of the most visited places in Madeira, amaze you with its huge collection of exotic plants, flowers together with swans, ducks and Koi fish. It is in Monte region- 5 km from Funchal centre. Inspired by Japanese and Chinese gardening style, a large section of his 70,000 square meters park is decorated with pagodas and Buddhist statues and decorations.  There are three galleries in Monte Palace Museum, two of them on sculptures and one exposes a collection of minerals.
The garden is open everyday except 25th of December from 9.30 to 18.00.
Address: Caminho do Monte 174, Funchal, Madeira 9050-288.
Madeira Botanical Garden:
Madeira Botanical garden located at Quinta do Bom Sucesso, only 3 km from centre of Funchal. This is one of the most beautiful gardens in Funchal, with more than 2000 exotic plants, amazing views, overlooking the city.  Apart from being a beautiful place of leisure, it also serves as a centre of Science and Culture. With about 35,000 square meter the Botanical Garden boasts more than 2000 exotic plants.  The park is connected to Monte Parish through cable car.
Opening Hours: From October 1 to April 29 – 9:00 to 18:00  (last entry at 17:30 ), From April 30 to September 30 – 9:00 to 19:00 h (last entry at 18:30 )
Address: Caminho do Meio, Bom Sucesso, Funchal.
Palheiro garden is famous for its beautiful collection of camellias, some of which may be more than 200 years old. The garden is divided into six areas: Main Garden, Sunken Garden, Ribeiro do Inferno, Rose Garden, Lady's Garden and the Tea-House area . You can enjoy lakes with water lilies and beautiful flower beds with purple and orange flowers. The Palheiro Gardens are open throughout the year and welcome visitors. 
Opening Hours: 9.00– 17.30 
Address: Caminho da Quinta, Funchal, Portugal.
Orchid Garden (Jardim Orquidea):
 Located about 200 metre down the road from Funchal Botanical Gardens, Orchid Garden is actually a nursery dedicated to creation and research of a wide variety of orchids from all over the world. Over 7500 varieties of orchids are grown here. There are lovely views of Funchal from their coffee shop. Children under 15 are free.
Opening Hours: 9.00– 18.00, Sunday closed.
Address: Rua do Lombo da Boavista 19A, 9060-173 Funchal, Portugal.
 This 9.200 square meter garden harmoniously combines massive trees, palm trees, many specimens of indigenous flora as well as introduced plants and exotic birds in its gardens.  Besides this, the garden  has a viewpoint where you can admire the sea and Funchal bay. There is no entry fee for this garden.
Opening Hours: 9.00– 18.00, Saturday, Sunday closed.
Location: Av. do Infante, 1, 9050 – 547 Funchal.
8. Take a Dolphin and Whale watching Tour on Catamaran
There is nothing more exciting than to watch marine life in their natural habitat! Dolphin and Whale watching tour during your holiday in Madeira will give you a better chance of exploring the wonderful marine life. You can also enjoy stunning view of Madeira from sea.
 Madeira is the house of 20 different kind of dolphins which makes it a great place to see whale and dolphins. Depending on seasons there are always 2 or 3 different kind of whales ready for tourists. There are many companies in Madeira offering Dolphins and Whales watching tour. Most of them start their trip from Funchal bay area.
 There are two different kinds of whale watching tour- by catamaran or speed boat. I recommend catamaran tour as there are few benefits. There are toilet and bar on catamaran. In summer time they stop for snorkeling and swimming. It is also cheaper than speed boat. You can explore the sea life bellow with complementary goggle and mask. These tours normally take 2 to 3 hours.
Remember:  Its matter of luck to watch dolphin and whale. No one can assure. Don't disturb wildlife.
 May-June is the best time for Whale & Dolphin watching. Book your tour in advance during peak time. In summer don't forget to take swimsuit, towel and sunscreen cream. In winter take your jacket with you.
The impressive landscapes, waterfalls, deep forests and mountains can't be seen from the road. Hiking is a must if you like to explore most beautiful places of the island. For its variety of hiking trails of all levels Madeira is a perfect place to venture for a hike. Most popular hiking trails are-
This hike is between two highest peaks of Madeira, Pico do Arieiro and Pico Ruivo. One can walk through clouds during the hike. This 7km trail(one way) takes about 3:30 hours. The route leads through tunnels, steep slopes and fabulous landscapes. This hike is considered as one of the hardest in Madeira.
Starting Point: As it is a hike between Pico do Arieiro and Pico Ruivo you can choose the either one as starting point. Pico do Arieiro is the popular one though. It generally takes about 45 minutes to an hour to drive up to Pico do Arieiro from Funchal. A large parking lot is available in Pico do Arieiro.
Vereda do Pico Ruivo (PR1.2):
 This hike is an easily accessible alternative to reach Pico Ruivo. The trail is 3km length (one way) and takes about 2 hours to complete. The views are breathtaking. Remember, weather can change quickly up in the mountain. People with average fitness can do it without major problem.
Starting Point: The hike starts from Achadas do Teixeira. It is about 1 hour (51,3 km) drive from Funchal. Unfortunately, there is no direct bus connection. If you don't drive  you need to hire taxi from Funchal or you can go to Santana by bus and then hire a  taxi. The later is cheaper option.
Vereda dos Balcões (PR11):
The PR 11 Vereda dos Balcoes Walk starts from Ribeiro Frio covering 3km ( with return) distance. It takes about one and half hour to complete the route. The trail goes through Laurisilva forest along the Levada da Serra do Faial and gives a chance to enjoy unique landscapes of the valley of the Ribeira da Metade, Faial parish and Central Mountains from the Balcoes (balcony) view point.
Vereda do ponta de sao Lourenco (PR 8):
Vereda da Ponta de São Lourenço (PR 8 ) trail is one of the most popular hikes in Madeira as it is one of the easiest hikes of the island. You will get a chance to explore the peninsula of St. Lawrence.The trail is 8/9 km long and takes 3-4 hours to finish. Along the  route you can often see several bird species, the Madeiran lizard, Lacerta dugesii, endemic land molluscs and interesting rock formations, resulting of the volcanic origin of the island. 
 Starting Point: The PR8 trail starts from Ponta de São Lourenço.  It is 35 min drive from Funchal and there is a large parking lot at the starting point. Bus connection is available from Funchal to São Lourenço Point. The ride from Funchal to São Lourenço takes about an hour and 20 minutes. 
If you are in Madeira you must taste "Poncha" a traditional alcoholic beverage, made with sugar cane rum, bee honey and lemon juice. It can also be prepared with other fruit juices, like orange or mandarin, but the lemon juice is used in its traditional version. Though it is found throughout the entire island, some of the most famous places are: "Taberna da Poncha" (Serra de Agua – Ribeira Brava), "Number 2" (Funchal), "Casa de Abrigo do Poiso". Remember, it is delicious but very strong. There is a common phrase that from third glass, you'll start speaking Ponchaguese (poncha+ Portuguese)!!
The Monte toboggan ride, commonly popular as Basket ride is one of the must do in Madeira. Dating back to the 1850s, someone decided to develop a faster way to get from Monte to Funchal and introduced toboggan ride. A wicker basket was placed over two wooden skis and within ten minutes the famous basket sledge reached Funchal.
Now-a-days the ride starts from Nossa Senhora do Monte Church. Remember, the toboggan ride doesn't take you all the way to Funchal. You must walk at least 20- 30 minute on a steep downhill to reach Funchal. Take the ride downwards after visiting  all attractive places in Monte.
Madeira is an ideal place for water sports! There are so many options of water activities that will fulfil your every need and desire.
The island's waters are home to a rich and diverse volcanic underwater landscape, marine mammals, making it a paradise for divers. Diversity gives divers opportunity to swim through caves, cavern and experience being near large sea creatures such as the huge groupers, stingrays, moray eels, pike, cod, parrot fish and tuna. You may also watch Madeira´s dolphins, Whales and Manta Rays. Marine fauna of Madeira is ideal for underwater photography. Porto Santo, Garajau Nature Reserve and the Funchal Eco Marine Reserve are most popular diving sites. 
Popular diving centers are Azul Diving Center Madeira, Explora Madeira Diving Center, Madeira Diving Center, Rhea Diving Center. Most diving centres organise trips to Savage Islands to swim with monk seals, dolphins and turtles.
The Jardim do Mar, Paul do Mar and São Vicente coasts offer excellent conditions for surfing that will delight even experienced surfers. Madeira´s waves are also ideal for wind surfing and kite surfing. Most hotels in Funchal offer surfing lessons.
Jet skis are easy to drive, and you don´t need a special driving license for Jet ski in Madeira. Jet ski safaris offer the thrill of jet skiing in a safe environment under the guidance of an experienced instructor. So, make your vacation memorable with the thrill.
Other popular water sports in the island are Flyboarding, kayaking, canoeing, banana boat trips, parasailing, stand up paddle (SUP)
13. Take a ferry to Porto Santo:
A trip to Porto Santo island is recommended. It is a place for relaxing, surrounded by turquoise sea. Porto Santo is popular for its 9 km long fine golden sandy Beach, ideal for sunbathing and swimming. The palm trees and bougainvillea lined streets are ideal for a leisure stroll. There are several restaurants to satisfy your taste buds. 
Madeira has an excellent reputation for being in the top ten acclaimed blue water fishing destinations. The mild climate of the island allows fishes to grow to world record size.
Though angling is very popular, Madeira is fast becoming a heaven for big game fishing – Marlin, Snapper and Tuna to mention. Other species, such as, white marlin, yellowfin tuna, albacore tuna, blue shark, hammerhead, Mako shark, dolphin, barracuda, bonito, marlin, swordfish are caught here frequently in large numbers. 
There are several fishing agencies which offer fishing trip in Madeira. You can check here https://fishingbooker.com/destinations/state/pt/MA
15. Sail on Santa Maria de Colombo:
The Santa Maria de Colombo, built in 1998, is a Madeira pirate ship which is an exact replica of the Christopher Columbus flagship. A sail on the Santa Maria will give you a chance to re-live Christopher Columbus´s voyage of discovery and imagine how he and his crew felt as they headed into the unknown almost 500 years ago. Enjoy honey cake and a glass of Madeira wine on board.
Santa Maria de Colombo sails twice daily- at 10:30 AM and 3:00 PM. Duration of trip is about 3 hours.
If you have more ideas or any queries, just drop them in comment box so I can check it and reply.