Saaremaa is the real gem of Estonia. It is home of different rare wildlife species, ranging from insects to seal; a paradise for bird watchers. Its diverse nature, history and culture have always attracted both local and international tourists from different parts of the world. Beautiful spas, warm sandy beaches, Nature Reserve, cultural events – with all her charms Saaremaa is prepared to make holiday great. Undisturbed nature, ancient stone walls, windmills and medieval churches will take you to a different era. Your mind will relish peace on this Estonian island. We visited Saaremaa in June, 2020 and tried to explore the island. This visit really made us feel relaxed amidst Covid-19 pandemic. Hope you will enjoy your stay on this wonderful island.
Saaremaa has retained its uniqueness because of its location and isolation. This largest island of Estonia situated on the west coast of Estonia in the Baltic Sea, south of Hiiumaa island and west of Muhu island, and belongs to the West Estonian Archipelago.
The first parts of Saaremaa arose more than 10,000 years ago from the Baltic sea and territory of the island has been inhabited for about eight thousand years. Nordic Iron Age ship burials from AD 700–750, have been found in the island. It was one of the wealthiest counties of ancient Estonia and was the land of notorious pirates aka Eastern Vikings.
The natives of Saaremaa have experienced many battles and been ruled over by Germany, Denmark, Sweden and Russia. Saaremaa was declared a restricted zone and closed for foreigners as well as for mainland Estonians from 1946 to 1989. Finally, Saaremaa has flourished after Estonia regained independence on August 20, 1991.
Top attractions in Saaremaa:
Though a small island, Saaremaa offers lot of things to see and do.  You need at least a week to explore the island. Here is the list of top 20 attractions of Saaremaa:
This well-known resort town of Northern Europe breathes to its own rhythm. As Kuressaare is most spa dense town in the world, it offers some wonderful spa services. It is a great place, far from the daily hustle and bustle, to reinvigorate your body and soul. Visitors can relax and explore local culture, admire art in different galleries, take a stroll around the old town and  the historical episcopal castle. You need at least a couple of days to explore this town.  You can check Kuressaare travel guide.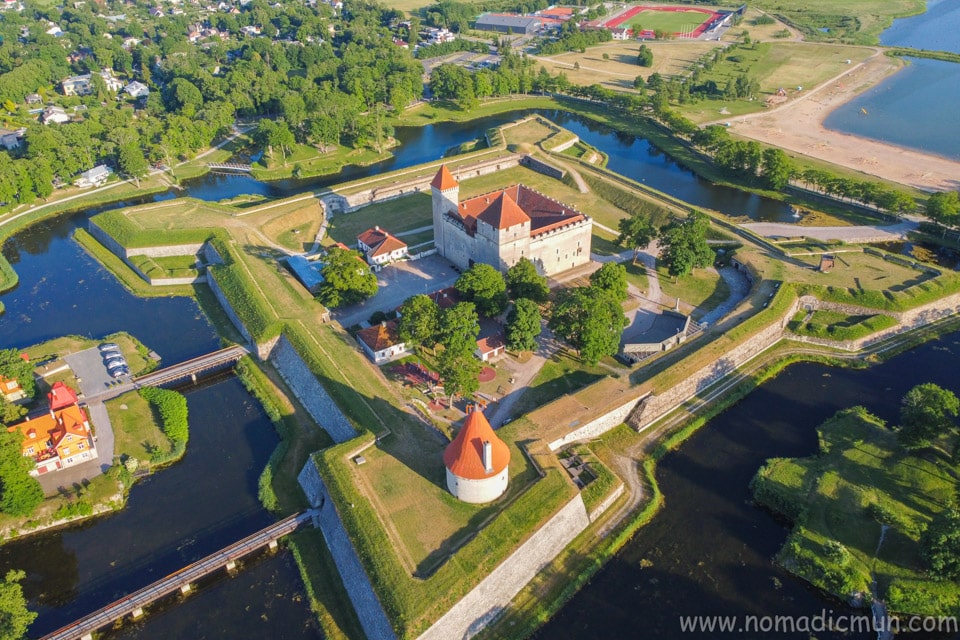 A short video on Kuressaare:
Check our video on Kuressaare City Walk
2. Kaali Meteorite Crater
Kaali Meteorite Crater, one of the most unique geological sites of Estonia, is eighteen kilometers far from Kuressaare. It is the the largest crater of Saaremaa – 110 meters across and 22 meters deep. The Kaali crater is considered as a volcanic depression or a karst hole, formed due to the dissolution of limestone, gypsum or salt.  The Crater is filled with murky water and commonly known as Kaali lake. Archaeological evidences show that the lake was surrounded by a wall during the early Iron Age, (600 B.C. to 100 A.D.) and was a Holy place for offering animals for centuries. Now the crater is surrounded by trees.  A lot of details of the crater is still under study and Future archaeological studies may even uncover more information about it. There are eight other smaller craters nearby. You can visit Kaali Crater Museum of Meteoritics and Limestone where pieces of the meteorites are displayed for tourists. 
If you want to stay nearby, Kaali Külastuskeskuse Hotel is a good option. It is in the same building of museum.
One of the most visited places in Saaremaa is Angla Windmills. In the open air-museum of Angla, you can see five windmills, four of them are typical Saaremaa type of wooden windmill and the largest one on the hill is Holland-type. There is a small farm, full of animals and birds, centuries old agricultural and handicraft machines, old horse carts and a heritage cultural centre. If you want to taste traditional food, there is a cosy traditional cafe restaurant inside the area. We tasted few dishes there and found them really delicious.
Ticket prices: 4 euro per adult, 6 euro per family.
Opening hours of Angla windmill: May to September 10:00 – 20:00, October to April 10:00 to 17:00, Please check their website before visiting as time and price may vary.
Angla windmills are on the Upa – Leisi road at the 32 kilometer signpost. In 1925, when Angla was the home of 13 farms, there were nine windmills here. Today, this open-air museum leave a remaining impression.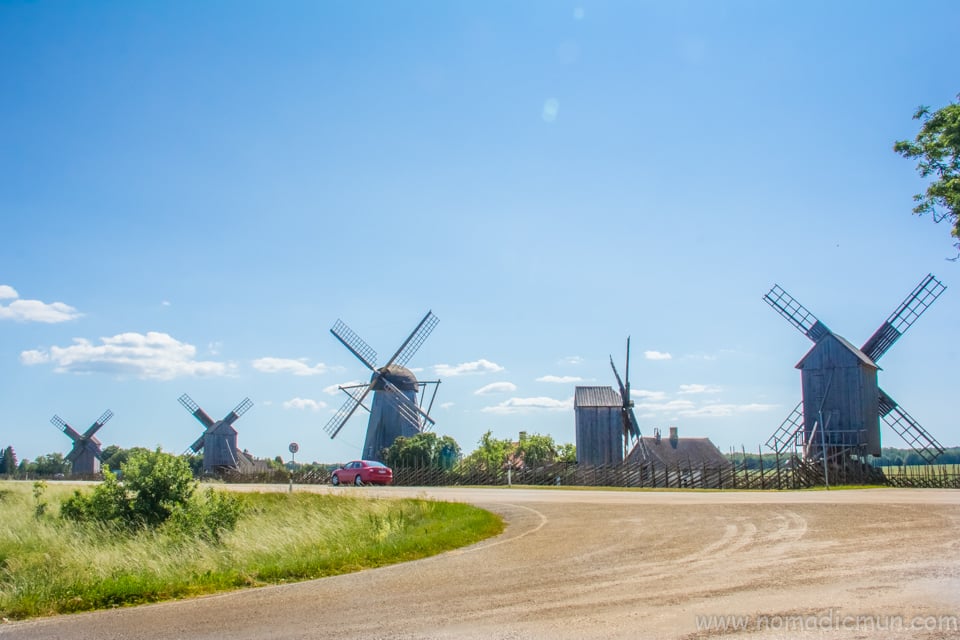 The Panga cliff is situated on the northern shore of Saaremaa, at the end of the Kuressaare-Võhma road, close to Panga village. It is the highest of the Saaremaa and Muhu cliffs, reaching to a maximum of 21.3 meters and the entire cliff is approximately 2.5 kilometers long. Its highest point is an ancient ritual site to worship and sacrifice to the sea for  ancient Saarlanders. Visitors can admire amazing view of sea, breath-taking sunset and many bird species. An interesting fact about the cliff is that there is a submarine cliff a few hundred meters from the beach, which can be visible only in stormy weather. 
The existence of an underwater plateau proves that the sea level on the coast has been temporarily lower than it is now. During bird migrations in spring and fall, you can spot hundred of storks, as well as other water birds, resting in the calm waters of the lagoon.
The 13th century Saint Martin's church in Valjala is the oldest surviving stone church in Estonia. The high domed vaults with Westphalian are one of the most impressive elements of the church. In Marvel the murals of the choir room depicting six apostles, were painted in 13 th century.
At Valjala Church you can find a Romanesque baptismal font, which is one of the most unique pieces of carved stonework in the Baltic states. It is said that the font was originally made for Haapsalu Cathedral and only later brought to Saaremaa.
Sõrve Lighthouse is located at Sõrve Peninsula in Torgu Parish, 50 km south from Kuressaare.  The original structure of the lighthouse was wooden, and the structure was replaced with stone in 1650. The Lighthouse is 52 metres high and cylindrical in shape. This present  lighthouse of monolithic concrete was built in 1960 after it was destroyed by  the Second World War.
 Sõrve was the last stronghold of the German forces in Estonia and was the place of bloody battles between German and Soviet forces during WW II. It is not only the lighthouse, but the centre of history too. 
In the ticket counter building, there is a beautiful exhibition about the area and different lighthouses around. If you continue walking past the light house towards the tip of peninsula, you can see ruin of the WWII prisoner camp and some of the concrete defences.
A short video on Sõrve Lighthouse::
Check our video on Sõrve Lighthouse
during summer months, you can climb to the top of the highest lighthouse of the Baltic Sea and experience breath-taking view.
The drive from Kuressaare is about 45-minute and best time to visit is late afternoon to get some beautiful lights.
It is Open every day in the Summer months (Mon – Sun 10.00 – 19.00)
One ticket costed 5€,
There is a beautiful kids friendly restaurant near the lighthouse – Sääre Paargu kohvik-restoran. One can try catch of the day. Or if you are in hurry just sip a cup of coffee enjoying the beautiful view. 
A beautiful village -Kaavi, is only  4 km away from Sorve lighthouse (towards Kuressaare). You can take a quick visit to Kaavi lighthouse and enjoy the relaxing sauna on sea. 
7. Vilsandi National Park
Vilsandi National Park is Estonia's one of the hidden treasures.  It is located on the western coast of Saaremaa and consists of nearly 150 islands and islets, along with the surrounding sea. Hiking to Vilsandi is one of the most adventurous hikings where trail goes along inshore islets and through the shallow sea.
The journey of being national park begins when Artur Toom, the long – time keeper of the Vilsandi lighthouse, started providing protection for sea birds by building nesting boxes in 1906. In 1910 the area was named a bird sanctuary and placed under government protection.  Approximately a hundred species of bird's nest are in the area, for a total of 7 000 to 8 000 nesting pairs.  The administrative center is located on the largest island, Vilsandi.
Before World War II there were 33 on the islands of Vilsandi, with 200 permanent residents. Today, there are only  about 10 permanent  residents. During World War II Vilsandi and its bird sanctuaries were completely destroyed. It was re-established to cover an area of over 180 square miles in 1957. A lighthouse is located on the western coast of Vilsandi.   If you are lucky you can spot grey seal in Vilsandi area.
When the water is low, it is possible to walk through the sea to Vilsandi Island from the tip of Kuusnõmme Peninsula. It is about 7.5 km from Kihelkonna visitor info centre.  The length of the hiking trail is about 5km (one way). Before heading to that trail, make sure to visit Visitor Centre of Vilsandi National Park, located in Kihelkonna, to ask about the water level, water current and wind forecast. You can leave car at parking in Kuusnõmme peninsula. Be sure to pack extra clothes and shoes. The hiking route is amazing. You can spot several costal birds, sheeps and rare vegetations.
Vilsandi is accessible by boat too. From Papisaare harbor a boat goes to Vilsandi twice a day. Papisaare harbour is 2.6 km from kihelkonna. It is also possible to drive to Vilsandi in a special-equipped truck. Visitor centre can provide you more details about that.
8.Harilaid and Kiipsaare Lighthouse
Harilaid, located in Tagamõisa peninsula, is the most north-western tip of Saaremaa.  It is one of most unique peninsulas of the island because of its irregular shoreline which has created many low – lying bays. You can find miles and miles of secluded beach with fine sand and shallow water.
Harilaid hiking trail starts from the car park area and takes about 2 hours (round trip) to complete. This 10 km trail runs via  Kiipsaare lighthouse and  then through sand dunes till Kelba point. From this point you have to return to starting point through same route. On the way to the lighthouse, there is a lagoon. You can see a  small camping site by the lagoon.
Large numbers of birds stop here during migration, and there is a resting site of grey seals on the west coast along the Elda-Soeginina trail.
Harilaid beach is excellent place for Surfing, kayaking, etc but you need to carry your equipment for a couple of hundred meters from car, but well worth it.
Kiipsaare Lighthouse, located on the tip of the Harilaid, was built in 1933. At the beginning the lighthouse was almost 100 metres (330 ft) inland, but now it's a couple of metres offshore. As a result of erosion and lack of supporting ground the tower has tilt. Nowadays it is not in use and famous as leaning lighthouse.
Mihkli Farm Museum, which was founded on February 5, 1959, is a typical farm in western Saaremaa, interesting from an architectural point of view.
It is located at Viki, 28 kilometers from Kuressaare, towards Kihelkonna. The farm consists of a log house where the family lived, an older house that was also used as a threshing barn, a wheel house where the wheels for the farm wagons were constructed, a forge, a summer kitchen, two storage barns, and a smoke sauna . A few hundred meters from the farm complex, there is a wooden windmill. Ancient ash trees grow around the farm. The leaves used to be harvested for the. Ash tree leaves traditionally represent a major component of the daily diet of sheep and goats.
Lake Karujärve, the most beautiful lake on Saaremaa, is located close to the town of Kärla, 30 km away from Kuressaare. It is the oldest lake on Saaremaa as it appeared almost 8000 years ago. The lake is about 330 hectares and at its deepest part reaches 6m. The southern shores of the lake are low and muddy whereas northern shores are deeper, sandy and rocky. There are five islands in the lake.
According to folk tale, Karujärve which means Bear Lake, got its name as 7 bears had a great fight at the spot. To make them stop, God sent a huge rainstorm and the lake formed from all that water. The seven bears stopped fighting and each of them went in a separate direction. As a result, the lake has 7 gulfs.
Now it is a protected area. The sandy beach of Lake Karujärv is perfect for relaxing and enjoying summer. Cabins can be rented in Karujärve Camping site. Water bike rent is also available on the spot.
11. Sorve Military museum
Sõrve Military Museum – based in former Soviet border-guard barracks, is 1 km away from Sõrve lighthouse. Founded in order to preserve and promote local history, this museum showcases life of soviet time and military detritus much of which was scavenged from the surrounding area. Among its exhibits, there are old stone school blackboard, parts of an old Swedish military vessel, and rifles! But the most interesting elements are the ruins of a massive gun embankment and various other bits of masonry littered around the garden. There is a marked trail which highlights the military history of the area.
With the single ticket you can visit a wildlife museum, originated in a nearby cottage. This wildlife museum has a good collection of eclectic arrays of bugs, butterflies, feathers, skulls, mosses and stuffed critters.
12. Mändjala beach and sand dunes
Mändjala beach which became the official swimming beach of Saaremaa in 2014, is one of the must visit places in Saaremaa during summer. This southernmost and sunniest public beach of Estonia is about 8 km away from Kuressaare, along Kuressaare-Sõrve road. The shallow water at Mändjala makes it one of the warmer beaches in the Baltic. The entire area is surrounded by sand dunes and pine trees.
13.Site of the ancient ship in Salme
In 2008, two wrecks of ancient ships were discovered in Salme rural municipality which changed the course of naval history. This is the oldest shipwreck, found in Estonia that dates to the 8th century. The ship was discovered with seven human skeletal, two swords, a couple of spear heads, ten knives, gaming pieces and some dice.
According to archaeologists, this finding is very important in history as because never before has anyone discovered a so-called warrior burial dating from that period and containing so many fallen warriors in Europe..
Though there is nothing much to see in Samle- only a row of concrete bench which indicates the size of the ships and an information board stand at the site, history lover can  give a quick visit as it is on the way to Sorve .
14. Pöide Saint Mary's Church
Pöide Church is the biggest Medieval Gothic-style single nave church in Western Estonia. The beautiful carved decor of the church is one of the best examples of High Gothic culture of Estonia.
Initial version of the church was built in 1230. It was a fortress with one unvaulted nave and without a tower. The chapel has experienced several damages and attacks.  The fortress was destroyed by the Saaremaa natives during St. George's Night Uprising in 1343. It was looted and burnt during second World War. The building was again damaged in 1940 when lightning struck the tower.  
Maasi Fortress was established in 1345 by Livonian Order's Landmeister Burchard von Dreileben after complete quelling of the St. George's Night Uprising. It is said that these native Saaremaas were responsible for the mass uprisings that destroyed the Livonian Order's original stronghold at Poide and killing all the Germans. The German name of Maasi fortress was Soneburg, which means 'punishment fortress' – or prison. It was meant to be a place to imprison those natives who had cost the Livonian's so dearly.
The Maasi Fortress' ruins is about 50 km from Kuressare and 7.5 km from the land bridge which connect muhu and Saaremaa.
16.Loode Tammik (Loode Oak forest):
Loode Oak Forest is one of few natural oak forests in Estonia. The average age of the oaks is 150 years with few of them are 300 years old. Besides old oak trees, the forest includes a wooded meadow, a coastal meadow, a bird watching tower, and rare species of plants, animals and orchids.
It is located 7km southwest of Kuressaare toward Komandandi and a ten-minute drive from Kuresssaare via Route 77. The forest is protected from 1955.
17.Viidumäe Nature Reserve
Viidumäe Nature Reserve is in Lääne-Saaremaa near the shore of the ancient Antsülusjärv lake. It is the oldest part of Saaremaa. The surroundings of Viidumäe is like a natural botanical garden – more than half of Saaremaa's plants grow in this small area including very rare species. 
There are two nature study trails in Viidumäe nature reserve. The 2.2 km long Audaku trail which passes through biotopes characteristic of Western Saaremaa, is usually accompanied by an instructor.  The 1.8 km long Viidumäe trail can be explored independently. The trail is equipped with information boards.
The nature reserve is 28 km from Kuressaare and 2.2 km from Viidu village. There is a small museum at the center of the Viidumäe Nature Reserve.
Asva Viking Village, also known as Saaremaa Vikings, represents the rich Viking history of the island of Saaremaa and the historic site of Asva. The village exhibits  a high Adventure Park, an open-air exhibition, a children park and an animal park.  In the park you can test your skills of archery, axe-throwing, horse riding and of several fun filled Viking games.  The open-air exhibition gives you a summary of  Asva Fortified Settlement as well the Viking Era.  During summer, there are several concerts held on the Fortress Stage.
 It is located on the Laimjala – Kuivastu road, at the 33-kilometre mark. The village is next to the Asva Fortified Settlement- one of Northern Europe's most famous Bronze Age settlements. The site showcases different eras from three-thousand-year history. There are interesting thematic activities and modern attractions to satisfy visitors of all ages. 
Located at Madise farm in the village of Jööri, this open-air museum gives you the opportunity to be acquainted with the buildings of the past as they were hundreds of years ago. You can find tools and other artefacts that belong to same era. The museum has a blacksmith's workshop where you can watch live work or make a lucky nail yourself. 
Jööri Village Museum is open daily from May to September (9 am to 7 pm) and entry is free for all.
Limestone processing in Mõisaküla Village in Saaremaa started by AS Limex in 1994. The raw material is from 460 million of years ago-from the Silurian era. AS Limex produces 250-300 tonnes during one season in Mõisaküla Village. As the production of lime is attractive the authority has opened limestone theme park on this territory of the historical lime burning furnaces. The theme park offers both indoor and outdoor services. From April to October it is possible to observe burning of lime and tar on the spot. 
Other activities take place all around the year- people can participate in workshops and seminars on how to use lime and its products in renovations and repairs, join guided tours, hike along the experience tracks and enjoy a picnic.
 The theme park welcome students and research institutions for their scientific work.
Saaremaa is famous for its local fresh vegetables, fish and meat. The traditional dish of potatoes and gravy is very simple but tastes great. 
Best dishes from Saaremaa are smoked fishes, meat of wild boar and duck, potatoes, home brewed beer, and rye bread. You can find 'Catch of the day' or 'fish of the day' almost in every restaurant. 
Local beer is famous and notorious. People from mainland of Estonia don't even dare to take a sip. It tastes sweet and nothing like normal beer. The process of making this beer follows old tips and tricks passed through generations. it tastes sweet but will make one forget oneself while sipping.
Dinning cost is cheaper compared to other mainland European countries.
There are plenty of options in Kuressaare. Famous restaurants in Kuressaare, are Saaremaa Veski, Ku-Kuu Restaurant, Vinoteek Restoran Prelude, Classic Kohvik & Pizza, Ristorante la Perla, Retro. 
Restaurant Saaremaa Veski, one of the oldest restaurants in Kuressaare, situated in a unique windmill. You must pay a visit there. Ku-Kuu is famous for its fish dishes.
Famous restaurant from other parts of the island are  Sääre Paargu kohvik-restoran in sorve, Loona Manor in Loona village, Kihelkonna,  Cafe at Angla wind mill, Lümanda söögimaja, Lümanda
Where to stay in Saaremaa:
There are plenty of options for staying in Saaremaa, mostly concentrated  near Kuressaare. If you want relaxing and luxurious vacation, boutique hotels or spa hotels could be the option. Saaremaa is popular for spa and sometimes it is referred as Sparemaa for its spa hotel density. Kuressaare is the most spa dense town in the world.  
If you want comfortable & pocket friendly stay, holiday resort could be your choice.  If you are on a budget trip, holiday village is the best option. For backpackers best options are – Airbnb or hostel. We stayed in a holiday village just outside of Kuressaare. It was pocket friendly but nice. 
Car is the best option to explore the island unless you are on the island only for a couple of days and planning to explore only Kuressaare. Public buses in Saaremaa is not very frequent and do not go to all tourist spots. We saw only one bus during our 7 days visit.  Only main attractions like Kaali craters, Angla windmill and Panga can be accessed by public transport. All bus-routes start and end only from Kuressaare. So it takes a lot of time. Public transports are free for everyone on the island. 
We recommend self drive as you can save time and access to all places of interest. If you like  you can rent bike, Segway or tricycle to explore Kuressaare. 
The most common way to reach Saaremaa is from mainland Estonia is ferry (+ car). It takes about 30 minutes from Virtsu to kuivatsu. The distance from Tallinn to Virtsu is 135 km and it takes about 1hr 45 minutes by car. Kuressaare is about 80 km from Kuivastu harbour.
Ferry schedule and ticket is available at https://www.praamid.ee/wp/?lang=en
During winter you can drive on the icy road on the sea instead of ferry to reach the island.
There is a direct flight to Kuressaare  from Tallinn. The journey takes about 30 minutes. On weekdays it flies twice a day while on weekend once a day. Kuressaare airport is about 3 km far from Kuressaare city centre.
Those who prefer a public transport, can take direct bus line from Tallinn, Tartu, Pärnu, Paide or Valga. 
Other destination near Saaremaa
Saaremaa's neighbour island Muhu is connected to Saaremaa by a land bridge.  You must cross this third largest island of Estonia island to reach Saaremaa from mainland by road. Muhu Saint Catherine's church is most popular attraction in Muhu as it is among the oldest ones in Saaremaa County. For details about travelling to Muhu and its attractions you can check our blog on Muhu.
Hiumaa, the second largest island (989 km2 ) in Estonia, is situated in the north of the island of Saaremaa. The island is heaven for those, looking for peace and quiet. One of the most popular tourist attractions in Huimaa is Kõpu lighthouse, which is one of the oldest lighthouses in the world dating back to the 16th century.
 A ferry runs twice daily from Port Triigi in Saaremaa to Sõru in Hiiumaa. The ferry journey takes about 1 hr.
Schedules for the ferry's can be checked on the Saaremaa https://www.praamid.ee/wp/?lang=en  and ferry tickets are available directly from www.veeteed.com 
Kuressaare to Triigi is about 45 km and takes 45 min by car.
The island of Ruhnu is an independent parish. Ruhnu is a different world- a world far from modern days with only 60 residents.
It is 70 kilometers from Kuressaare and accessible  by ferry . A high-speed catamaran (Kuressaare-Ruhnu-Kuressaare) runs from 1st May to 31October. The  journey starts from Roomassaare harbour  and  takes 2hour 15 min to reach Ringsu harbour in Ruhnu. You can book Ticket directly from https://veeteed.com/#/en/
An eight-seater plane flies on the Pärnu-Ruhnu-Kuressaare route from October 1 to April 30.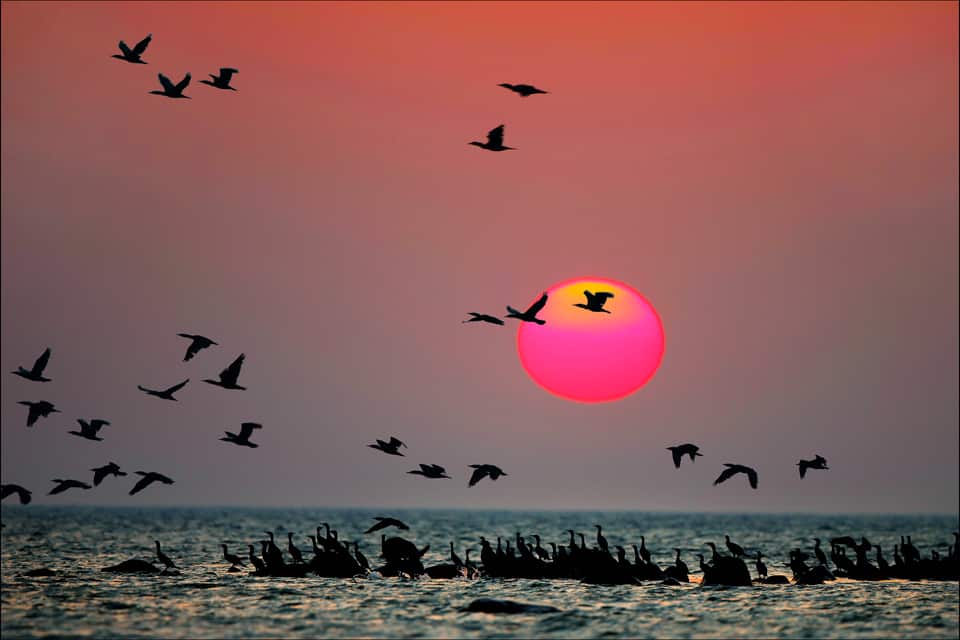 Hope this blog will help you to explore the island easily. If you have any question comment here. I will try my best to answer. Don't  forget to share your experience in the island if you have already visited, and feel free to inform here if I miss to cover any important point.