We have only one life to live. 

That is why I always try to enjoy every second of my life with its full strengths and only traveling gives me pure enjoyment. I love to travel, sometimes with full proof plan, sometimes without any plan like a Nomad. Roaming amidst wild nature without any proper plan gives me a different type of pleasure which can not be explained through words but only can be felt, a pleasure which gives peace of mind and new 

strength to live among all hazards. This time it is northern light or Aurora hunting in Lapland.
One who loves to drive can understand that the taste of road trip is completely different from all other trips. I love road trips as I can hear the whispering voice of roads in my ears. 'It works in me like madness, dear, to bid me say good-bye'. In April, 2015 my three friends and I left our warm houses hearing the call for 

adventure

. We made a wonderful team for a road trip to

Lapland

. Our aim was to follow Northern Light i.e. the mystic Aurora Borealis.
If one wants to explain aurora borealis (northern light) in the term of science, it is the result of electrons colliding with the upper reaches of Earth's atmosphere but for me it is multi color majestic lightning created by nature, a light which has a wild strength to make one joyful to tippi toes.
We started our journey to the Northern part of Finland from Helsinki. The snowy road has gone towards the wild north through snow covered pine forest.  Our first stop was Oulu.Lively Oulu is a gateway to urban culture as well as the unique nature of the North. The city ofOulu, located on the shore of the Bay of Bothnia, in the Oulunjoki river delta. It's  about 630 km from Helsinki. We were eagerly waiting for aurora but the sky was cloudy. When we were about to reach Oulu the sky became clear and suddenly we saw glimpse of bright green light in the sky. Here and there in the sky there was deep green light moving through all the sky. We were so overwhelmed watching the beauty of the light that we even forgot to click the majestic display.
Next morning we visited Snow Castle in Kemi. It is the biggest snow fort in the world. It is rebuilt every winter with a different architecture. There is a chapel, a restaurant and a hotelin the castle. The Snow Restaurant has ice tables and seats, covered with reindeer fur, as well as ice sculptures. The Snow Chapel has seen numerous weddings of couples from different parts of the world. The Snow Hotel offers a choice of double rooms and a honeymoon suite. It is really a life time experience to see such a creation.
Our next destination was Rovaniemi, the official hometown of Santa Claus. There is an office of Santa. In that office tourists can meet Santa. I watched cartoons about Santa in my childhood. I used to imagine Santa on his Reindeer sleigh in a snow covered village going to distribute Christmas gifts among the children in night before Christmas. I was very excited to meet my dream Santa. 
When we reached the area I saw a small but beautiful, well organized village, full of entertainment for tourists. After a magical meeting and a little talk with Santa we went towards the Arctic Circle. The Arctic Circle cuts right through Santa Claus Village. I had never even dreamt that one day I would cross the Arctic Circle. We roamed around the area, saw reindeer, husky sleighs. One can book and take a sleigh ride in the wildforest of North Pole. Husky ride or reindeer sleigh are also life time experiences for tourists.
We finished our journey for that day in Tankavaara Gold Village. The main attractions of this village are 'gold panning' and 'aurora trails'. We reached there in the evening. Entire village was covered with snow. The whole area looked mystic in yellow dim lights, coming from the houses. The sweet sound of a wind chime, hanging near the main gate gave a special charm. The world outside was very cold, about -20 degree. Our cottage was in the wood. It was small but cozy. We all were siting beside fire place, enjoying the beauty of outside world through our huge glass window. 
Suddenly we found again the mystic northern light in the sky. It was so bright. Though it was very cold we decided to go out to enjoy the beauty of snow covered forest with aurora. Shortly we were ready with all our winter gears and took an aurora trail through the forest. We four started to walk silently as we did not want to spoil the charm of the beautiful night. There was the full moon in the sky. Ice covered trees, icy roads – everything looked silvery in bright moonlight. 
The magical northern light in the sky was showing its magic, dancing through the sky and making us crazy. The whole area was so silent that we could hear the sound of our foot steps. We stopped near a snow covered meadow. There was only the soft sound of snowflakes in the entire place. Suddenly snow began to fall heavily. There was more than one foot snow on our path. In spite of our winter gear we could not bear with the bite of chill weather and returned to our snow covered cottage.
Next day we started our journey to Ivalo . It's a small village located on the shore of the river 'Ivalojoki'. Winter sports' lovers visit this place for downhill and cross-country skiing, snowboarding, husky and reindeer sleigh riding. We went for snowmobile ride on the frozen Ivalojoki.  There were igloos on the frozen river bed. Though I was riding pillion it was really an awesome experience for me. 
Once the adventure was completed we headed towards Inari, the northern most city of our trip. This largest municipality in Finland charms the visitors and locals with its unique wild nature and many-sided cultures. Numerous lakes and islands, hundreds of fells, and diverse flora and fauna together build up an unforgettable experience to visitors. A little time before sunset we went to a coffee shop. The evening was chilly. The blue sky transformed to pink with the setting sun. The frozen lake looked mystic through the glass wall. Some leafless trees tried to survive in the chilly windy weather.
After finishing our coffee we headed towards Kuukiuru Holiday Village. It is situated between the towns of Kemijarvi and Sodankylä on the bank of the river Kemijoki. Northern light again started to play with us when darkness swallowed the last sign of light from the sky. It was playing hide and seek, moving and dancing through the whole sky. We all were spell bound by the majestic beauty of the light. The natural light show of that night was the best one so far. We saw multi color light all over the sky. It seemed that the sky had played 'holi' (festival of color). Forgetting all about the mundane world our hearts also became colorful and started dancing with that mystic light. We signed off the day with amazing aurora pictures.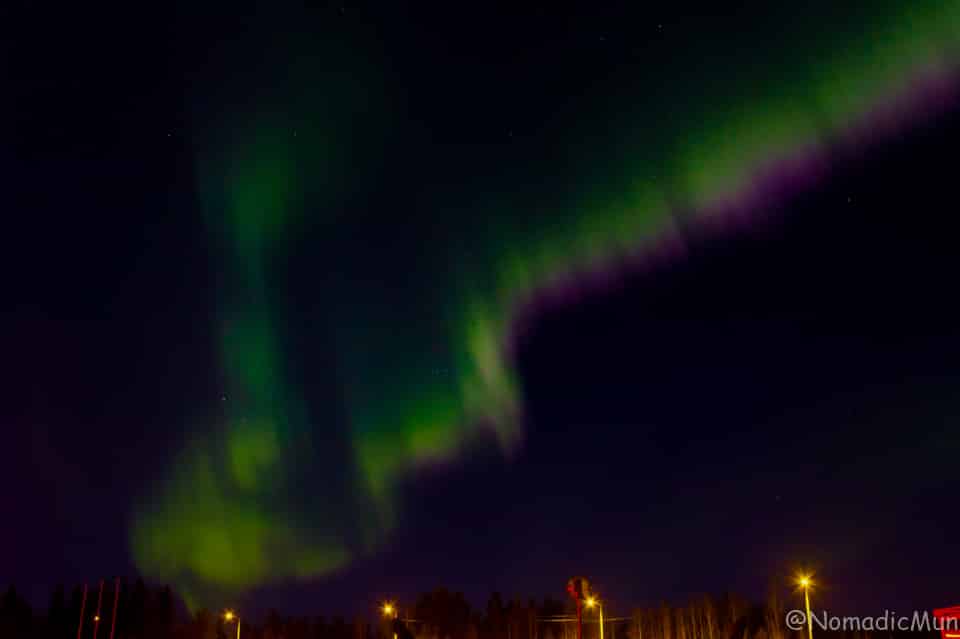 On the last night we were so excited following the northern light that we could not realize how beautiful this place was. The next day was very sunny. In the morning we were sitting on the hanging balcony of our cottage which was just beside a huge frozen lake. As far as one could see there was only snow and snow.
It was time to say good bye to Lapland. On our way back we stayed one night in Kuopio, a city surrounded by Lake Kallavesi. Our friend Ari lives there. We had dinner together.  Next day we all went for ice skating on the frozen Lake Kallavesi with him. We enjoyed a lot. We had an interesting cross cultural discussion over a cup of coffee by the side of the frozen lake.
Our adventure of hunting northern light was nearly finished. We had to return to our regular mundane world. Though we were leaving Lapland our hearts were full with the memory of seeing the majestic light. I believe that one season is not enough to enjoy the true beauty of any place. So I returned home with a hope to visit Lapland again and again as I knew I would find Lapland in different moods in different seasons. 
For more adventures please click here .