Dubai is best described as an oasis of dazzling marvels in the middle of the desert. It's where the mix of uber stylish architectural splendors, sprawling malls, and high-end entertainment attractions beautifully coexist alongside the quaint historic neighborhoods, classic sand-colored structures and insightful museums. In fact, Dubai merits the top position as the Middle East's most favored holiday spot with more than 16 million people traveling to this city per year.Whether you're traveling to Dubai for the first time or already a veteran visitor, here we bring you an extensive Dubai travel guide which helps you to create an immaculate itinerary of the city. 
So let us walk you through everything that you should know about Dubai, from its location, when to visit and top destinations to where to stay, what to eat and how to explore.
Dubai is the second largest city in the UAE. That said, it outshines the country's capital as well as the largest city, Abu Dhabi, in terms of its unrivalled offerings. Lying across the Persian Gulf's southeastern coast, it also serves as a prominent hub for many airlines, thus serving as a major jump off point or a stopover which connects two destinations.
Come to Dubai any part of the year; you can be assured that there will be plenty of things awaiting for you to discover and explore. But, if you love outdoors, the most recommended time to visit here is during winter months. That said, traveling to Dubai in summer too has its own benefits.
Summer in Dubai: It typically starts from April, and the temperature will reach at its peak (about 50 °C) in June – July, making it scorching hot and humid. Now if you think that this is not the ideal time to visit here, it's good to know that Dubai is equally charming during this period as the city offers some amazing attractions by way of Dubai Summer Surprises (DSS), exciting Eid deals etc. All these are apart from Dubai's extensive array of shopping malls and indoor theme parks plus kid-specific leisure zones. A summer trip to Dubai further offers the added perks of fewer crowds (this being the time most Dubai residents fly back to their home countries), lower accommodation rates, and discounted landmark / entry park tickets, among others.
Winter in Dubai: With a pleasant weather ranging from 12 °C to 22 °C, the winter months from October to March is undoubtedly the best time to visit Dubai. Please note that mercury dips to 5°C in the region's deserts and mountains during winter. Most prominent events including the iconic Dubai Shopping Festival (DSF) take place during these months. Featuring mildly warmer days and colder nights, it's also the time when you can get wilder with the city's many exhilarating desert, water and aerial activities.
Top Destinations in Dubai - Dubai Travel Guide
Although we've covered some of the city's unmissable attractions in this Dubai travel guide, the city isn't just about these sights and experiences by any stretch; it's much beyond that!
This is the world's tallest man-made structure and evidently the zenith of the Dubai's glamorous cityscape. An ascend to one of its sky-high observation decks (on 124th or 148th level) offers you the once-in-a-lifetime chance to see all of Dubai and beyond, covering its stunning skyscrapers, desert and ocean, from a viewpoint like no other. A multimedia presentation highlighting Dubai's sleepy past and the swiftest ever elevator ride are all part of your Burj Khalifa experience.
Right next to the Burj Khalifa is the world's biggest mall, Dubai Mall, with over 1200 outlets. Beyond shopping and dining, it's an absolute haven for leisure and entertainment seekers, thanks to its many amusement attractions such as KidZania, VR Park and Dubai Ice Rink. It offers superb edutainment experiences too, with the massive Dubai Aquarium and Underwater Zoo. And of course, don't miss out the stunning musical fountain show (Dubai Fountain) which takes place right outside the Dubai Mall.
3. Bastakiya Quarter & Dubai Museum:
This well preserved heritage site is the heart of the city's old part. A walk through its winding narrow alleyways allows you to have a closer look at a string of old-world splendors that dot the place, such as the timeless sand-colored structures adorned with wind towers for traditional cooling effect. It is home to many historic and cultural points of interest, mainly Sheikh Mohammed Centre for Cultural Understanding and the Dubai Museum which is inside the Dubai's oldest building (dating back to the 18th century).
No matter you're a first timer or someone revisiting the place, you'll never get bored of exploring Dubai's traditional bazaars or souks. If you're on time constraint, you can skip all souks except for Gold Souk which is definite to astound you; its entire streets with close to 400 shops are dedicated to selling gold jewelry. You'll get to explore and buy jewelry of traditional and modern designs or ones studded with precious gems and finished in 18k, 21K, 22K or 24K gold.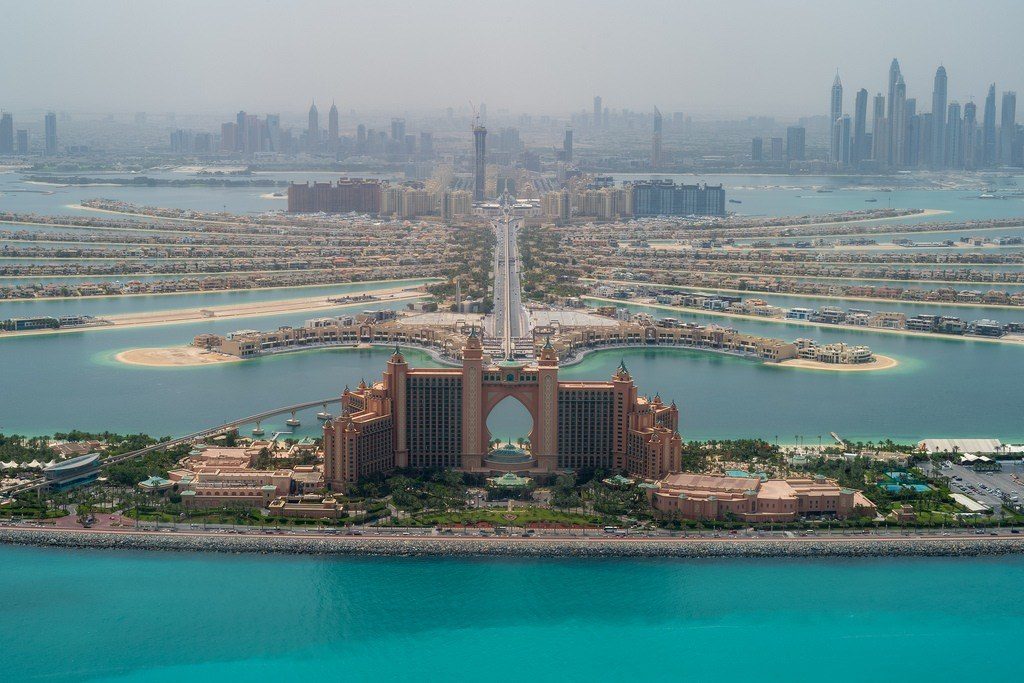 Modeled to take after a giant palm tree with a crescent on its top, the man-made archipelago of Palm Jumeirah is one of the Dubai's inimitable engineering feats. There are several ways to experience its unmatched grandeur, from sky diving and taking a helicopter ride to enjoying a monorail ride which encompasses all of its extraordinary sights.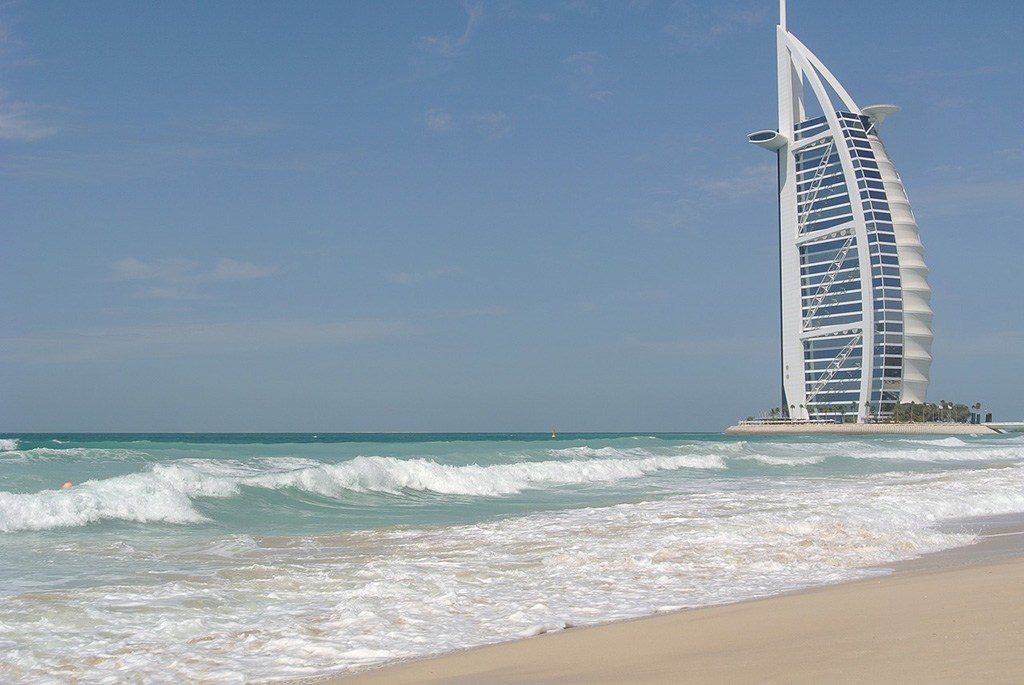 You can't complete a trip to Dubai holiday without catching a glimpse of the city's most iconic structure! The luxury-dipping Burj Al Arab is considered the world's only seven-star hotel. While a stay in the hotel is reserved for rich and affluent, others can still witness its imperial style interiors by reserving a table at one of its super classy dining venues.
7. Dubai Parks and Resorts:
Surely, the region's first-of-its-kind integrated resort boasts of everything you're looking for in an action-packed or a theme park based vacation. Besides a Polynesian themed resort and tons of shopping and dining options at its Riverland Dubai, Dubai Parks and Resorts is home to three theme parks plus a water park. The largest of all parks is Motiongate which holds the reputation of the region's first Hollywood inspired park. The next is Bollywood Parks Dubai which is the world's first park themed around classic Hindi movies. Finally, LEGOLAND Dubai with LEGOLAND Water Park is an ultimate leisure and entertainment attractions for families with kids aged 2 to 12 years.
Just 35 to 40 minutes' drive away from the city, you'll discover a different side of Dubai with a desert safari. It introduces you to an otherworldly landscape that is completely surrounded by the seas of golden dunes. Brimming with activities and cultural experiences, it lets you enjoy the thrilling ever 4X4 dune bash ride, take in desert sunrise / sunset views or both (depending on your chosen desert safari), relish delectable BBQ treats, participate in an array of cultural activities, and finally, unwind within the quaint ambience of the modest desert camp.
Delight in the Dubai's astonishing night charm on a two-hour dhow cruise. Along with unlimited refreshments, lavish buffet dining, and traditional entertainment onboard, it allows you to step back to a bygone era, as these wooden vessels were once used for fishing and pearl farming before the discovery of oil.
If you wish to catch up with the Dubai's stunning views from up high, there is no dearth of options. But for those who want to experience the modern and traditional side of Dubai from a single vantage point, nothing could probably beat the views from the Dubai Frame's sky deck. With its giant picture-frame-like profile, this futuristic structure is the largest of its kind in the world.
Where to stay in Dubai - Dubai Travel Guide
With hundreds of thousands of hotels, it can be quite an intimidating task to pick an accommodation in Dubai. And one of the best ways to choose a hotel is to analyze your holidaying needs and choose one within the easy reachability of your desired Dubai attractions. For instance, if you're here for shopping and leisure, consider a hotel somewhere in proximity to Downtown Dubai or Al Barsha. For a taste of Dubai's opulent lifestyle and luxurious facilities, the most recommended locations are Palm Jumeirah and Dubai Marina. Alternatively, the enthusiasts of culture and history can opt for lodging somewhere in Bur Dubai or Deira region.
Once you've zeroed in on your Dubai location, you've to decide whether you need a cheaper, budget, or a super luxurious stay and also determine how much you're willing to spend on your accommodation. For those seeking out a top-class hotel with the best of comforts, the accommodation choices are somewhat endless; Atlantis, The Palm, Burj Al Arab, Armani Hotel (inside Burj Khalifa), and Kempinski Hotel at Mall of the Emirates are just a few to mention. But, if you're looking for a sumptuous option which also offers a great value for money, choose to stay at one of the city's hotel apartments. With all facilities including fully equipped kitchen, it also allows you to cook your own food.
What to eat in Dubai - Dubai Travel guide
Dubai is home to people from over 150 countries means it's where you can savor delicacies from all over the world. This ranges from traditional local cuisines to classic Asian, European and American specialties to the ever popular food chains including KFC, McDonalds, and Subway. Needless to say, you'll find here some of the world's best restaurants including the premium dining venues by Michelin-starred chefs.
Whether you want to dine with a view or looking for an upscale dining spot to impress your beloved or conduct a corporate event, Dubai has it all. With countless options to cater to every pocket and taste bud, you can dine at sprawling food courts within malls, reserve a table at one of the dining venues inside top-notch hotels or just walk into one of the many individual gourmet restaurants scattered across the city.
On the other hand, if you're after some really cheaper alternatives, Dubai's small eateries, cafés and street food vendors (selling filling foods like shawarma, paratha, falafel balls etc) won't disappoint you.
Dubai boasts of one of the world's most comprehensive and convenient public transport systems. This allows you to explore the city in a variety of stress-free ways.
Metro: Dubai Metro is the most sophisticated mode of transport, being driverless and completely automated. With a metro station in every other quarter of the city, it's easy to hop from one point to another in a metro. A metro ticket takes the shape of a smart card, known as Nol card, and the same can be used to travel by Dubai's buses, trams and water buses.
Bus: Dubai's public buses offer one of most affordable alternatives to get around in the city. There are over 1500 buses in Dubai. All of them are air-conditioned and come with comfortable seating and ample leg space.
Boat: This cost-effective transport choice allows you to discover Dubai from water on a traditional abra ride or a relatively speedier Dubai ferry cruise.
Taxi: This may be a bit expensive when compared to other modes of Dubai transport, but it's still the most recommended choice if you want to arrive at a Dubai spot or landmark on time or without any hassle.
As we've covered almost all important topics, we hope that this Dubai travel guide will definitely prove helpful for you to plan an immaculate Arabian holiday.
Loved it? Pin Dubai Travel Guide
About the author Neha Singh:
A post graduate in Mass Communications, Neha has been a keen writer and loves telling stories about her travel experiences. In her pastime, she loves trying out new food, explore new places and meet new people.Check out her blog here: http://www.dubaiwikia.com/.